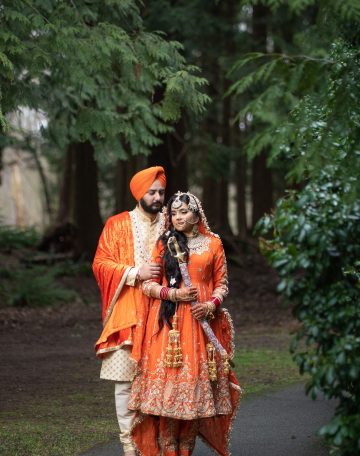 The wedding day is one of the most important and memorable days of your life. It's a day that you've spent countless hours planning and preparing for, and you want to make sure that every moment is captured perfectly. That's where Chirag's Pixhub comes in.

At our wedding photography service, we believe that your wedding day is a story waiting to be told. Our wedding photographer Vancouver is passionate about capturing the love, laughter, and joy that you and your partner share in a way that reflects your unique style and personality.
Our team of experienced Vancouver wedding photographers is dedicated to providing you with a personalized experience that exceeds your expectations. We understand that every couple is different, which is why we take the time to get to know you and your partner before your big day. Our Vancouver wedding photographer and videographer will work with you to understand your preferences, style, and vision for your wedding photography so that we can create a wedding album that you'll cherish for a lifetime.
On your wedding day, we'll be there to capture every moment, from the first kiss to the last dance. We'll work tirelessly to ensure that every shot is picture-perfect, from the lighting to the angles and the composition. We'll also work with you and your wedding planner to ensure that everything runs smoothly and that you can relax and enjoy your special day.
Our wedding photography service includes a variety of packages to suit your needs and budget. Whether you're looking for a simple, intimate ceremony or an extravagant celebration, we have a package that's perfect for you. Our wedding photography and videography packages include a variety of options, such as engagement sessions, bridal portraits, and digital files, so that you can choose the services that are most important to you.


After your wedding, we'll provide you with a gallery of professionally edited photos. You'll be able to choose your favorite shots and use them to create a stunning wedding album or other keepsakes. We'll also provide you with high-resolution digital copies of your photos so that you can print them as you wish.
However, you don't need to hesitate to opt for our services due to the misinterpretation that our service is costly. We have designed our services in a way that proves pocket-friendly to our clients. That is to say, we are providing affordable wedding photography Vancouver.
At our wedding photography service, we're committed to providing you with a fun, stress-free experience that captures the love and joy that you share as a couple. We believe that your wedding day is a once-in-a-lifetime event, and we'll work tirelessly to ensure that your photos reflect the beauty and significance of your special day.


So why wait? Contact us today to schedule your wedding photography session, and let us help you capture the memories that you'll cherish for a lifetime. We can't wait to work with you and capture some memorable shots which you can cherish forever.